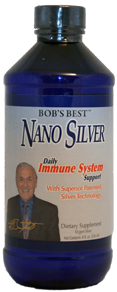 This is the time to get serious about your health and prepare to make a stand for your family's well-being.
Bob's Best Nano Silver is the #1 choice of thousands of people for aiding to supercharge their immune systems. By boosting your immune system, you allow your body's own natural defense system to work more efficiently at helping to maintain its healthy natural state.
Take Bob's Best Nano Silver orally as instructed every day to give your body the upper hand by giving your immune system a boost. Think of it as your family's first lines of defense in the battle against disease.
Why miss a day of work or school unexpectedly? That can end up costing us more in time and money than if we had taken the simple steps to help prevent it.
Most of us don't have time to slow down in this fast paced world. Add Bob's Best Nano Silver to your already healthy lifestyle of exercise, good nutrition, Bob's Best supplements, proper hygiene, and adequate sleep.
With this powerful combination, you'll help enable your body to overcome anything life throws at you.
Some of the Benefits of Taking Nano Silver

Made with SilverSol Technology®
New Safer technology
Other Silver Companies unfortunately rely on century old technology, so we decided to differentiate ourselves; we ended up creating a new molecular structure never before seen in silver products. Because of this transformation, our silver particles have qualities unseen in any other product on the market today.
Our silver particles are excreted from the body within 24 hours. Consequently, supplements made with our silver particles can be ingested daily as a dietary supplement without building up in your body.

Our silver particles reach their peak absorption in the blood stream within 2 hours (both quick and effective)

Because of their numerous methods of action, you can take less of our nano-silver particles to achieve the same results you would with other ionic or colloidal silver particles
As you factor in all these unique qualities that separate our technology from the competition, it becomes clear that when people start to question the safety and effectiveness of colloidal silvers or silver supplements, they clearly are not including our technology in the comparison.
What about Argyria?
One of the concerns people have had with silver products is a very rare skin condition known as Argyria, commonly referred to as the blue man syndrome. Basically, Argyria is a consequence of there being too much ionic silver in the body at one time, so much so that the body cannot dispose of it quick enough through its normal mode of excretion.
In order expel the excess silver, the body walls it off in the cells. This can in some cause a grayish blue discoloration in the skin. Although this condition is medically harmless and cosmetic only, in most cases the discoloration can be permanent.
Taking into consideration the evident qualms individuals may have with getting Argyria, we hope to ease your apprehensions with clear and 100% proven facts.
We'll begin with studies collected from the Environmental Protection Agency (EPA). According to the EPA (who is in charge of defining safe levels of any mineral in water which is used for ingestion, drinking, or disinfecting), the oral intake of small amounts of silver in water on a daily basis poses no noteworthy degree of risk.
Unless someone consistently consumes (every day for over a year) over 50 times the recommended daily dosage of a 10-30 ppm product, there would be zero possibility of that person getting Argyria. However, those people who do consume hundreds or even thousands of times the recommended daily dosages do run the potential of developing this condition overtime.
A study from Pennsylvania State University was released after years of researching numerous colloidal silver and silver aquasol or nano products purchased on the U.S. market. The author of the paper was Professor Rustum Roy, along with seven other professors and scientists from top universities.
In the report mentioned below, on the subject of ionic vs. metallic silver for human use.
Dr. Roy states (page 2, fourth paragraph): "In spite of this enormous range of data, it is extraordinary that no major effort has been made to confirm and expand on the role of metallic silver in human health–especially in light of its huge advantage and lack of side effects. (Ingestion of excessive amounts of ionic (soluble) silver, not metallic solid particles is reported to have resulted in a very rare condition labeled Argyria, an (irreversible?) darkening of the skin.
No one has died of this condition. The safety of metallic SilverSols® is firmly established by the data cited above.)
Ultradilute Ag-Aquasols with extraordinary bactericidal properties: the role of the system Ag-O-H2O. (Materials Research Innovations, vol. 11, no. 1, (2007) pages 3-18)
HOW IS SILVER MEASURED?
Mostly silver concentration is measured silver using parts per million (ppm), which means so many parts of silver per million parts of water. Most silver products on the market range in the 50 to 100 ppm silver concentrations with some even as high as 5,000 ppm.
Bob's Best Nano Silver however is 10 ppm. Based on studies, we understand when taking silver, less is more.
WHAT DOES THIS MEAN FOR YOU?
We wanted to let you know about this because we know that consumers usually like to see that they are getting the most out of the product they spend their hard earned money on.
Most people would tend to think that a product with higher concentration (100 ppm vs 10 ppm) is more beneficial because you're almost 10 times the amount of silver than you would with the lower concentrated product. Although the mathematical side of the equation holds true, the difference lies in the structure of the silver particle and its mode of action.
For instance let's take the difference between consumer electronics like cellular phones and computers today and these same products 15 years ago. Not merely are they more technologically superior but they are substantially smaller than their older counterparts: antiquated "brick" phones, need I say more.
More significantly, however, consumer electronics today have considerably more processing power than they did over 15 years ago. Knowing this, let's go back to our silver products dialogue.
Would you rather buy a package that has 10 old computers or a package with 1 brand new computer to get the same amount of processing power? Equally, would you purchase a 100 ppm silver product (with old colloidal silver technology) or a 10 ppm silver product with new SilverSol Technology® – The next generation of silver products? Now you can! It's easier to see why our products are the best answer for immune support.
Supplement Facts
Adult Serving Size: 5 ml (1 Teaspoon)
Servings Per Container: 48
Amount per Serving: Purified Silver 50 mcg*
Other ingredients: Deionized Water.
*Daily value not established
Bob's Best Nano Silver contains no artificial ingredients, preservatives or additives.
Dosage
Adults –

1 teaspoon up to three times daily

Children –

1/4 to 1/2 teaspoon once daily
Warning: If you are pregnant, nursing, have any allergic reaction to trace minerals or if you have any chronic recurring symptoms or illness, please consult a health care professional before using this product. Store at room temperature. Keep out of direct sunlight.